Cake? Check. Flowers? Check. Content Creator. . ? That's right, hiring a photographer and videographer for a wedding just isn't enough any more as the modern bride is looking for content creators to capture every moment for social media. Couples are splashing out between £300 and £1000 for external companies to take photos and create reels of their big day which can instantly be uploaded to platforms like TikTok and Instagram.
One of those companies is the Social Brides Club. Set up by Lauren Bunnage in October 2022, she's already hired two members of staff to help with the high demand. "Photographers and videographers need weeks, usually months, to edit and send the footage they capture, and often it's not in formats that are easily shareable to social media," Bunnage tells POPSUGAR. "The difference is I edit and send all the images, videos, and reels to the couples before they've even gone to bed on the night of their wedding. When they wake up as newlyweds, they have instant access to the best highlights of their day, all formatted ready to be shared online."
And she's not the only company to offer a social wedding service. Wedding Content Creator UK was launched in December by married couple, Ollie and Lydia McGrath, who call themselves the "friendly paparazzi". "Most of our clients are between the age of 25-35 and, while lots of them love social media, they are not all 'influencers'. In fact, most are couples who want content edited for them because they don't know how to edit together highlight reels and transition videos themselves," Ollie tells POPSUGAR. Prices vary with packages starting at £475 for three reels, four hours of coverage, and photos to £800 for 8 reels and 10 hours of coverage.
"We don't just create the content, we help couples come up with content ideas ahead of the big day too," Ollie continues. "We make sure we are on top of all the latest wedding trends on TikTok and have a big spreadsheet full of reel ideas and trending music that we share these with all brides and grooms who book our service. There are the obvious transition reels, capturing the big change from dressing gown to bridal gown, to the more fun stuff like bridal party dances. We also pick up on things on the day, too. One bride we worked with had a dress with pockets and we noticed her telling all her guests about this feature on her gown. We were able to capture every time she told a guest and edited it together into a reel with the track 'It's got pockets', and when she saw it the next day she loved it."
So is this the start of the end for wedding photographers as we make way for more up-to-date memory capture? Bunnage says absolutely not. "I actually don't work with brides who don't have a professional photographer booked. I'm not instead of a photographer, I'm an extra," she says. "Brides still need the high quality, formal photos that photographers offer. Content creators offer to be the hands behind the iPhone so that brides, their bridal party, and their friends and family don't have to worry about being glued to their phones taking videos and making reels on the day."
@weddingcontentcreator

When the bride's dress has pockets, it's an unwritten rule that she has to mention it at every opportunity 👰🏻‍♀️ #weddingcontentcreator #ukwedding

♬ Pockets by Brittany Law – Brittany Law
Hazel Noore, 35, saw the trend over in the US and decided to see if it was possible for her big day in April 2023. "One of the main appeals of booking a content producer for me was knowing that I'd have all the content ready for my first morning as a newlywed," she says. She used the Social Brides Club and received links at 2am on the night of her wedding. "I couldn't believe it! It kept the high from the wedding going as I could relive every moment rather than having to wait months for my professional pictures and video."
Noore, who got married to Neil at Lochside House Hotel, Scotland, set up her own separate social media accounts to document her planning process after she got engaged, and found a whole community of brides-to-be to share ideas with. "It's a great way to share inspiration and experiences and get recommendations," she adds. "It was on TikTok that I first saw a wedding content creator. It was a post showing a bride being followed around on the day, having pictures and reels filmed, and I just thought wow, I'd love to have that and not be bound by the copyright of photographers and videographers. I immediately started searching for some in the UK but it took me a very long time to find anyone doing it as it's such a new thing."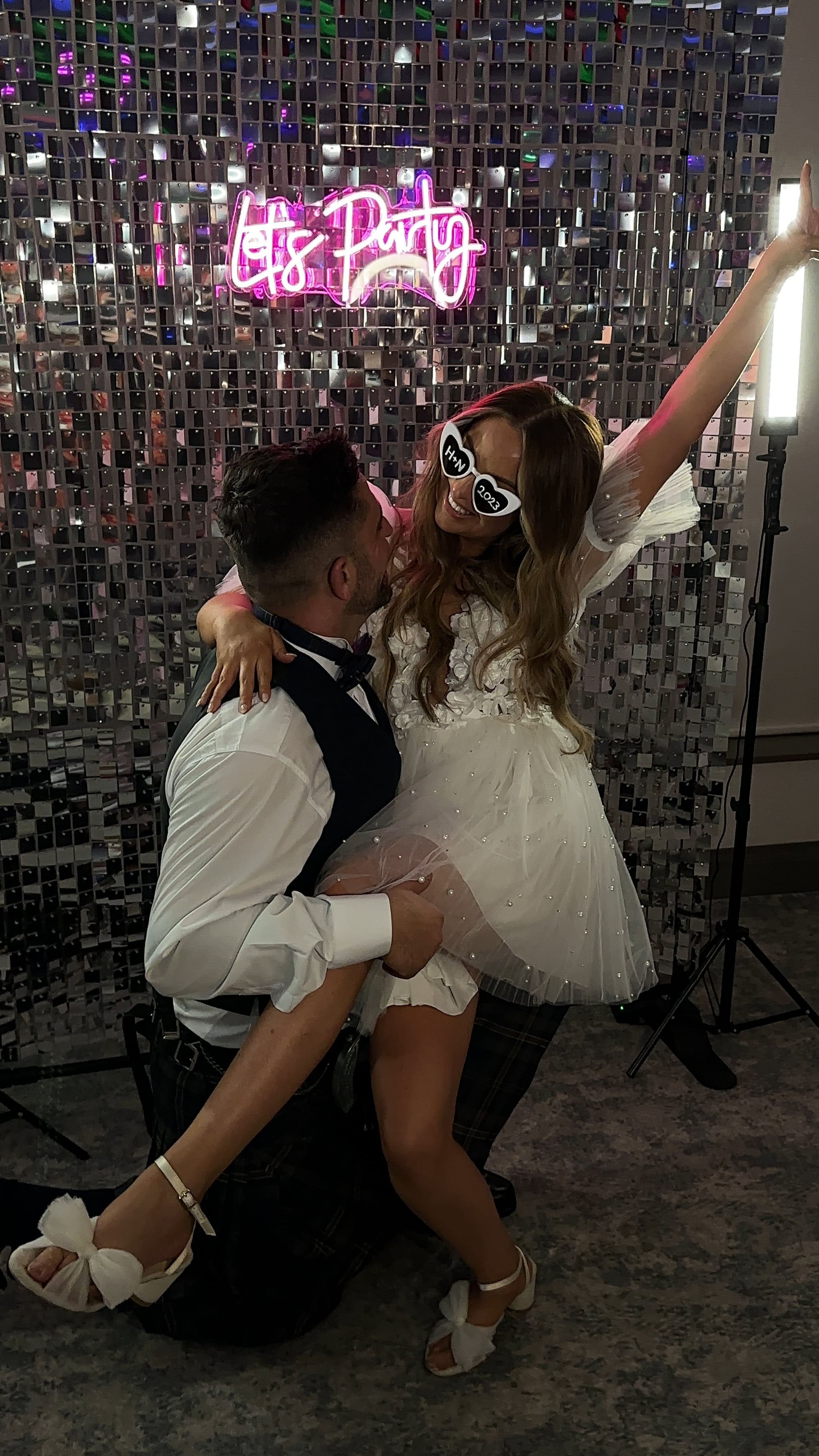 Noore was thrilled with the results. She used a formal photographer and videographer as well, but would recommend the more casual footage for any new brides. "I think content creation seems so new now, but in a few years this will be something most brides have because everyone wants to be able to have that instant access to memories."
And she might be right as we live more of our lives on social media. There are even options for newlyweds to pay for content creators to have access to their phones for 24 hours, allowing them to post live onto social media on the big day. "These days, nearly all the guests at a wedding have a phone and a social media account and it can leave brides and grooms feeling like they are missing out on being in charge of how their big day is shared," Lydia says. "Guests are often the first people to share images of the venue before the bride has even arrived, or post reels of the cake cutting and first dance. We create the reels and images and grab the couple when we can to get quick photo approval, then we upload their choices for them. We also repost other people's insta stories that they are tagged in to make sure they don't miss out on the opportunity to do this before they disappear. We allow the couple to be social online without them having to be anti-social on their phones on their wedding day."
As couples splash out on an Instagram-worthy dancefloor, neon signs, and flower walls for the big day, is it worth hiring a professional Instagrammer, too? Now, just to think of that wedding hashtag. . .