Serena Williams is often said to be the greatest female tennis player of all time. As she plays her last few matches before retiring from the game, it's clear how much she has inspired other players, none more so than 19-year-old Emma Raducanu. The British tennis star won 6-4 against Williams, who is 20 years her senior, at the Western and Southern Open in Cincinnati on 16 Aug., and was quick to praise the "inspirational" US sports star.
It was the first time the pair have played each other, and Raducanu was honest about how "nervous" she was to take on "such a champion". After her triumph, the composed young Brit told the crowd: "I'm so grateful for the experience to have been able to play her and for our careers to have crossed over. Everything she has achieved is so inspirational and it was a true honour to share the court with her."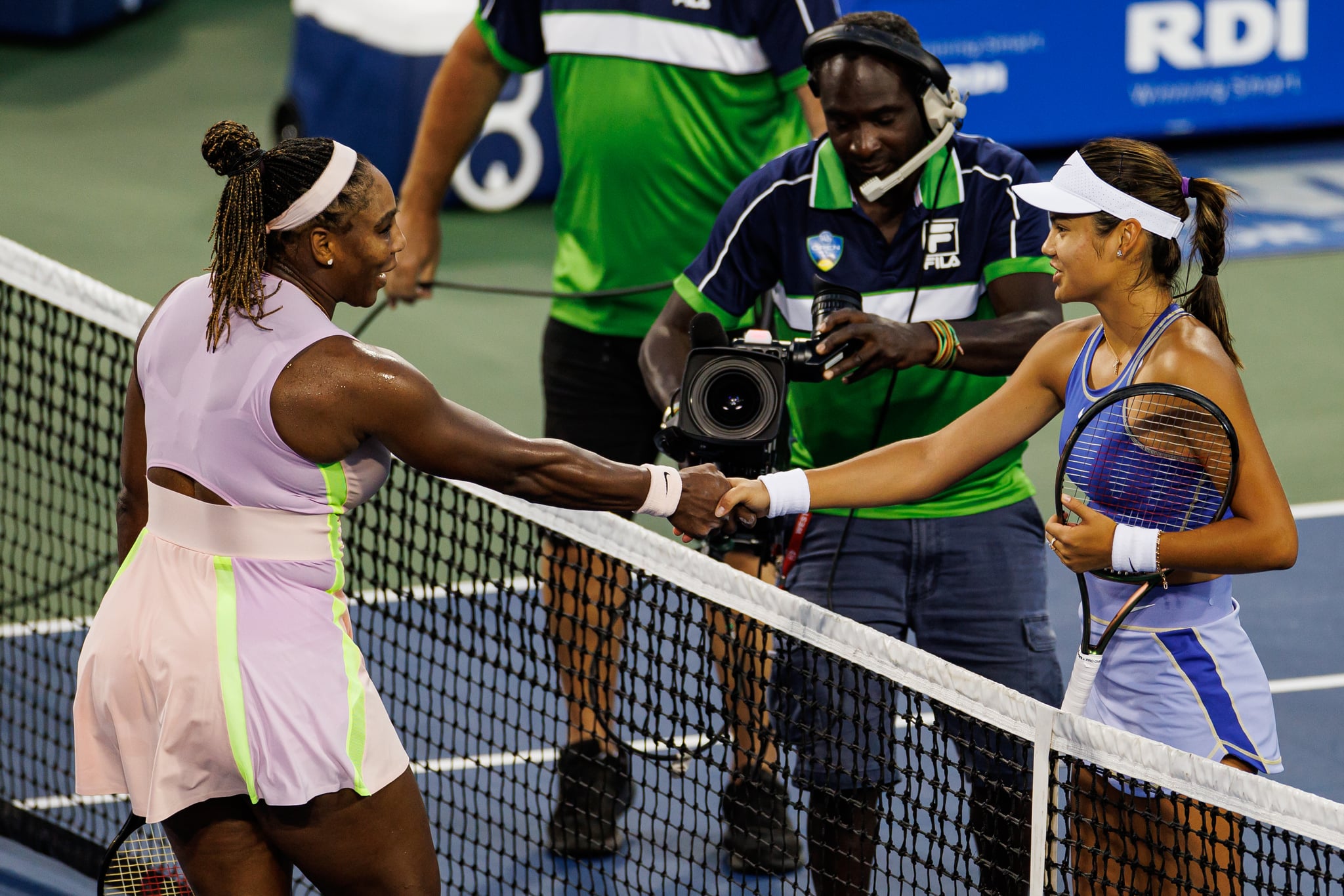 Williams, who is a 23-time Grand Slam champion, announced her retirement from the sport last week. In a statement on Instagram alongside her September Vogue cover, she said: "There comes a time in life when we have to decide to move in a different direction. That time is always hard when you love something so much. My goodness I enjoy tennis. But now, the countdown has begun. I have to focus on being a mom, my spiritual goals and finally discovering a different, but just exciting Serena. I'm gonna relish these next few weeks."
The 40-year-old is set to stop playing professionally after the US open, which starts on 29 August. Raducanu wasn't even born when Williams made her professional debut in 1995, so the newcomer beating the legend was a real passing the torch moment. After the match, Raducanu recalls seeing the icon play at Wimbledon when she was just seven years old. "I think that everyone can draw inspiration from her, myself included. I remember my first memory of watching her play live at Wimbledon, it was a day out with my first coach and . . . she was so dominant . . . she's probably got the best serve ever and the greatest player of all time. To honestly share the court with her I was just really, really pleased and it was such an honour."
For Raducanu, win or no win, sharing the court with the sporting great was a "gift". The young star even confessed that she understood why fans were eager for Williams to win. "Even when you guys were cheering for her I was all for it," she said. We love women supporting women!
Only four years into her professional career, Raducanu has a long journey ahead of her. After winning the US open last year and being named Sportswoman and Sports Personality of the Year by several outlets, her future looks bright. Let's hope she learns from Williams's incredible legacy.