Earlier this year, in the bleary-eyed depths of lockdown, when time stood still and our days were punctuated by just one government-sanctioned walk, there was an image circulating on my Instagram feed. It was a still from Sex and the City, of Carrie and Aiden in matching white briefs, brushing their teeth in the bathroom – a seemingly perfect (read: idealised) snapshot of the domesticity we'd all found ourselves in under lockdown. Now, a second national lockdown has begun, and it's doing the rounds once again.
View this post on Instagram
When this episode ('Belles of the Balls', season 4, episode 10) aired in 2001, the choice of underwear – white cotton briefs – was controversial. The entire episode was centred around the neurosis of the various men in Carrie, Charlotte, Samantha and Miranda's lives, leading our protagonist to wonder, "Are men just women with balls?" Putting Carrie in Aiden's underwear was purposeful in drawing the viewer's mind to the power struggles of men and women, of the greater strength women demonstrated in comparison to their male counterparts, and to ask: Who really wears the pants in this relationship? Dodgy and unprogressive sex and gender politics aside, viewers fell into one of two camps: they ran out to bulk buy men's white briefs to emulate Carrie's look for themselves, or they recoiled in horror, as cult Instagram account @everyoutfitonsatc did: 
"This is why monogamy is horrifying: either Carrie is literally wearing Aidan's underwear (gross) or she made a special trip to the Hanes section of K-Mart to procure the perfect pair of extra-small tighty whities (pathetic). Either way, this sartorial codependency is a huge red flag."
Fast forward to 2020, though, and this private snapshot of domiciliary closeness has been romanticised once again, and, with it, the BWP (big white pant) is back in fashion – or, more specifically, back in our underwear drawers. Of course, they never really left, but while loved in private, these ultra-comfortable, large, soft, high-waisted knickers have forever been publicly stigmatised. When called 'granny pants,' they're associated with the elderly; when dubbed 'Bridget Jones pants,' they're an indictment on singledom; when named 'period pants' (despite actual period pants not entering the market until some time later), they're a shameful secret to be kept out of sight of your partner. So, while the BWP has been a staple of everyone's underwear drawer for time immemorial, their appearance on our Instagram feed – particularly as an aspirational sartorial choice – is certainly novel. 
Of course, it makes sense that they're trending in a year where we've genuinely forgotten the sensation of dressing up. As jeans are stowed away and sales of loungewear soar – both Uniqlo and ASOS have credited sweatshirts and joggers with their 2020 profits – it's not only the practicality of less restrictive clothing that appeals to being house-bound, but the warmth and well-being that comes with cosseting yourself in soft clothing provides a kind of physical relief from all the hardships this year has brought, from a global pandemic to a polarising election. "Even before lockdown, over the past few seasons we saw that more and more customers were looking for comfort and really wearable pieces, and this has trickled down into lingerie," Libby Page, senior market editor at Net-A-Porter tells me. "And so it's no surprise that given our current lifestyle, customers are after comfortable cotton, high-waisted briefs that offer the perfect underpinning for their WFH wardrobes." Now, throwback SATC references aside, cult and coveted labels like Baserange, Hanro, Organic Basics, Commando and Prism² have all been making the high-waisted cotton brief the most sought-after pant of choice, with shopping platform Lyst reporting a 59% increase in search for 'granny pants' between January and September.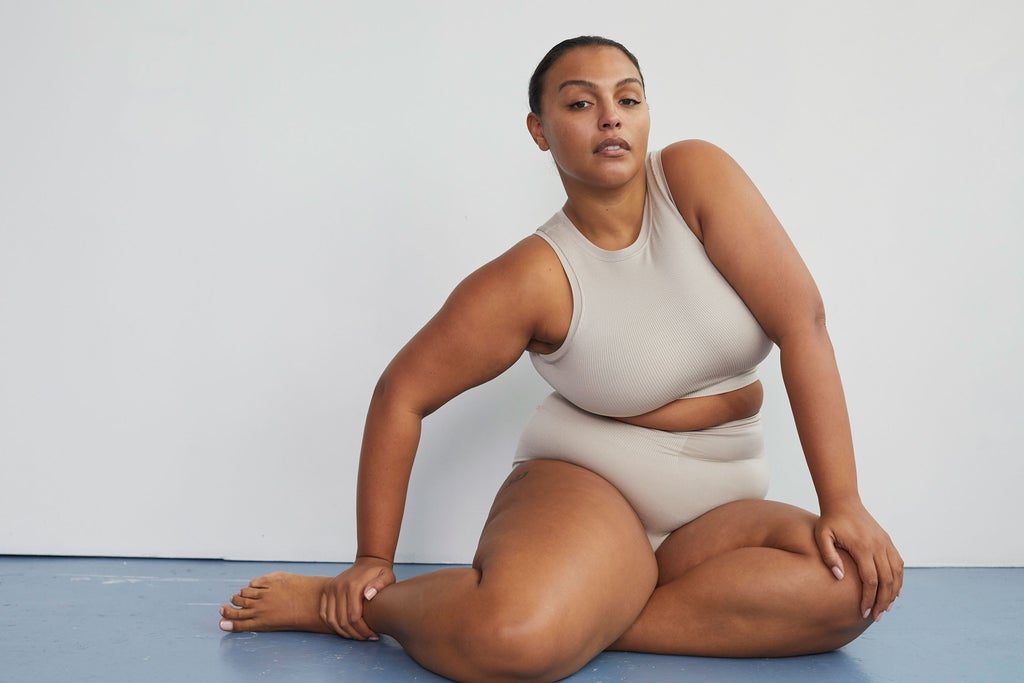 Though 2020 has undoubtedly caused an acceleration, we were embracing comfort dressing long before lockdown. Over the past decade, led by earthy brands like Birkenstock and Patagonia, sky-high heels have been shunned in favour of trainers and 'ugly' sandals, slick suits swapped for hoodies and fleeces, and smart pea coats replaced with duvet-style quilted and puffer jackets – of course our underwear was bound to be next in line for a basic make-under. In fact, our move to being creatures of comfort in the underwear department can be traced back to 2014, when Racked announced the apex of normcore with Acne Studio's just-launched a pair of granny pants. 
The return of the BWP stretches beyond our increasing appreciation for coziness and comfort, though, because sales of traditionally sexy lingerie aren't waning. This isn't a traditional pendulum swing of trends, where one's demise signals another's reign; instead, the XXL knicker sits neatly next to the lace-laden Frenchie and barely-there thong in current popularity. "The trend for high-waisted briefs is equally matched by that of lace and tulle thongs, which have also seen a rise this season," Page says. Just take Rihanna's game-changing label Savage x Fenty, searches for which spiked 101% in July after the brand's Vol.2 show saw Lizzo, Paloma Elsesser, Laura Harrier and Nazanin Mandi don the sexiest sets on social media.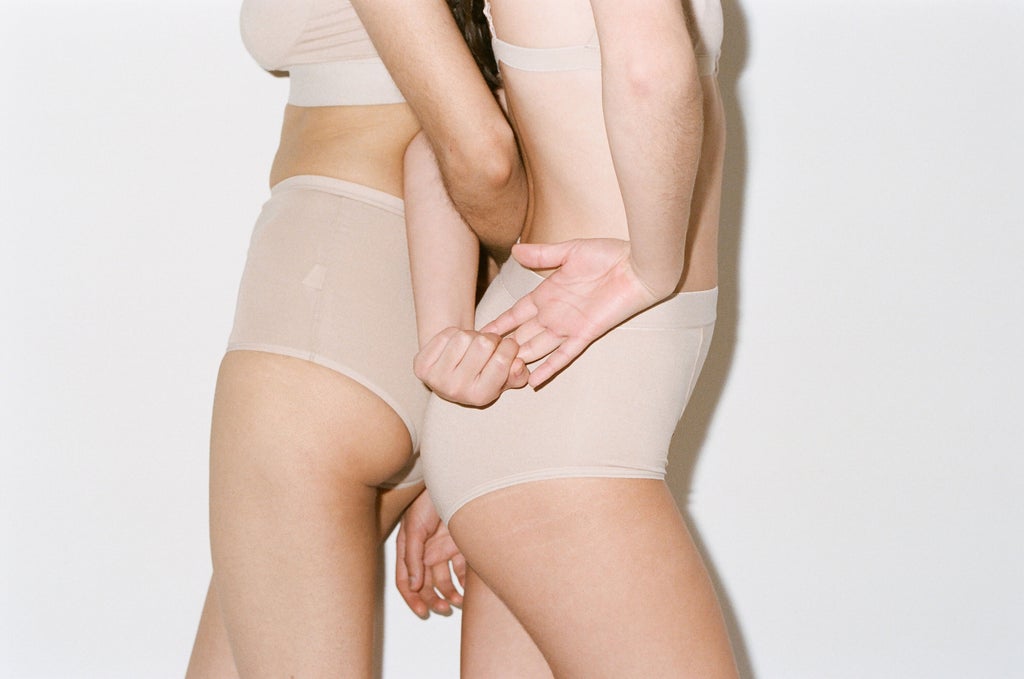 So what's changed? In the history of dressing up (or down), full-coverage has always been the antithesis of sex, while anything barely-there has seemed to give the impression of being DTF. Take dresses: mid-length hems, high collars and long sleeves imply a chastity borrowed from religion, whereas a spaghetti-strap slip dress screams sex (another SATC reference: see Carrie's season one 'naked' dress). Now, though, these archaic binaries, while still visible in fashion (just take the recent rise of the prairie dress and the subsequent debates on fashion and female liberation), no longer apply to underwear. This progression, Blandine de Verdelhan and Marie Louise Mogensen, founders of Baserange, say, is "likely to do with society's overall view of women and sexuality, which has opened up and evolved so drastically. That sort of either / or positioning has become antiquated now."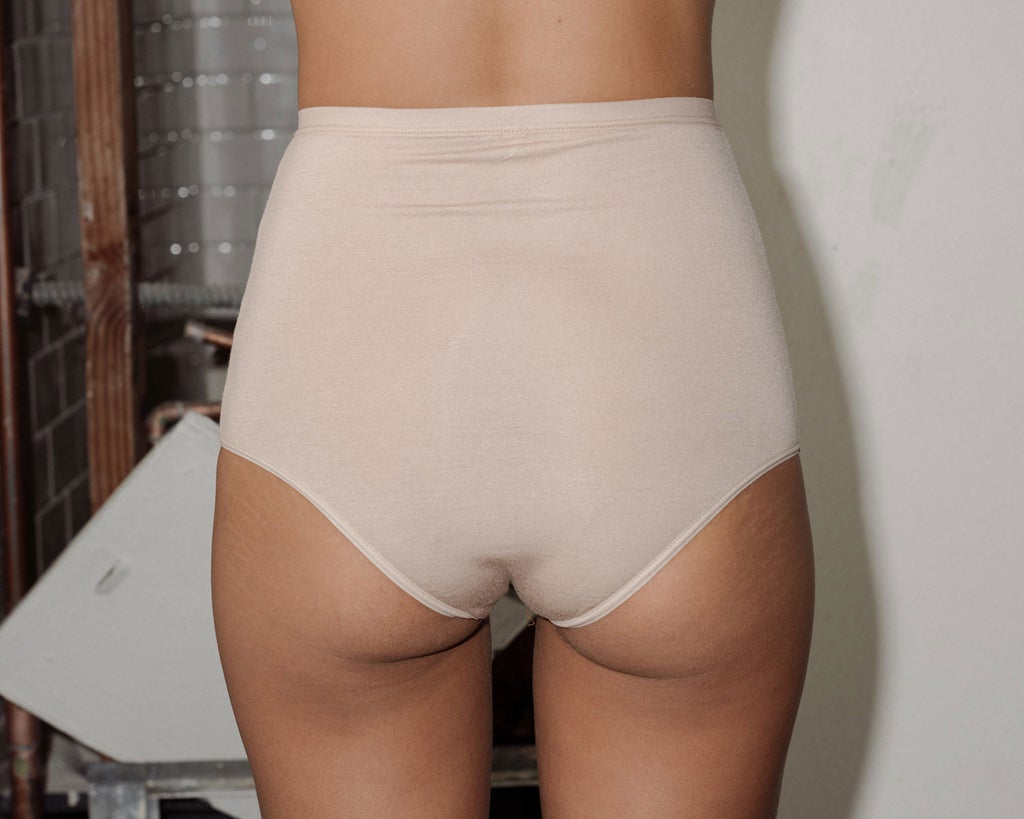 Sure, lace and mesh and frills and thongs – all facets of traditionally sexy lingerie – are still celebrated today, but the key difference is that they're for everyone now, not just Victoria's Secret models, or women buying into one prescribed aesthetic to please their partners. Now, all-out sexiness is for everybody and every body – as exemplified by the size-inclusive and photoshop-free brands taking over our Instagram feeds, from Dora Larsen and The Underargument to Lonely. So not only has sexiness in its most conventional form been made more inclusive, welcoming and democratic, but its fall from the pedestal of unattainable aspiration has made way for the redefining of sexiness altogether. "Though the Savage x Fenty brand of sexy seems very different, the empowering message is the same as that of the granny knicker crew – sexy is what whatever a girl feels like being sexy in," Jo Lynch, intimates strategist at trend forecaster WGSN explains. Anna Laub, founder and creative director of Prism², agrees: "That whole ideal of women having to be overtly sexual to be sexy that has – finally – been turned on its head."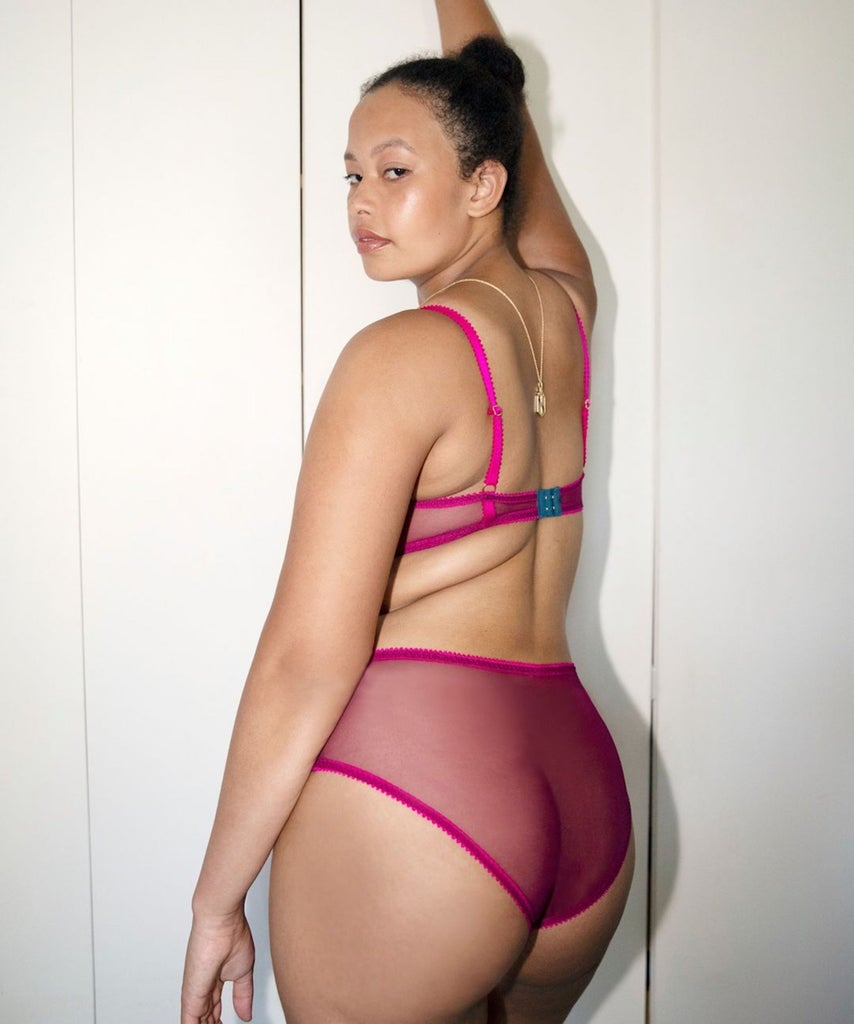 When discussing underwear and body positivity, we can't overlook the strides made in the menstruation space, either. As period positivity took over Instagram, brands like Thinx and modi Bodi – creators of period-absorbing pants that are all high-waisted, all full-coverage – represented a kind of feminist statement, drawing parallels between BWP and empowerment. "The granny knicker trend started before lockdown, and, ironically, the main thing that got granny pants, period pants and big briefs their 'bad name' (being comfortable rather than conventionally sexy) is now their key selling point," Lynch notes. It's worth pointing out, too, that this style of underwear wasn't always publicly shunned: from the 1930s to the '50s, high-waisted styles were the height of fashion, and 2020's vintage revival certainly plays a part in their return. Today, there's no need to choose between comfort and coverage and zingy colours, lace and sheer fabrics: many of the coolest contemporary brands offer it all in one piece.
Our definition of sexy is changeable on any given day, and, thankfully, free from the male gaze, there's now a brand creating lingerie to suit your every kind of mood. 
Like what you see? How about some more R29 goodness, right here?
Lingerie That's As Sexy As It Is Sustainable
New Lingerie To Update Your Underwear Drawer
Lingerie As Outerwear Is Trending On Instagram