The post-pandemic "new normal" means that face masks are part of daily life all over the world. Everyone in England must wear them while using public transport including trains, the Tube, on the bus, ferries or planes and in hospitals or face a £100 fine.
The only exceptions are those under the age of 11 and people with disabilities or breathing problems, or anyone travelling with someone who lip-reads – though we found a mask for that occasion too.
Travel Kit Masks – £19.99
GATE8's nifty professional Hygiene Kits are packed (in a TSA approved wash bags) with enough items for a trip lasting from one to seven days. The kits come with a re-useable Face Mask, medical-grade disposable masks, hand gel, gloves and sanitising wipes, keeping you safe in the office and on the road.
The double-layer fabric face covering is non-medical and ideal for general workplace use, while the medical-grade disposable masks minimise the incidence of cross-infection.
Enjoy 20% off GATE8's Hygiene Kits by using the code "travelmagazine" on GATE8Luggage.com.
BUY IT NOW FOR £19.99
Designer Mask – £17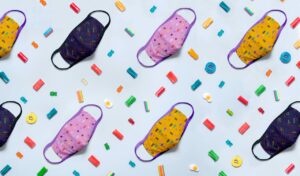 The UBIK mask is a waterproof, antibacterial, breathable mask available for adults and children. It's made of quick-drying fabric and features a pocket for an optional filter. Founders Jon and Caesar realised there was a need to turn this new, core wardrobe essential into a fashion statement and desirable addition to the wardrobe. Reversible with a pattern on one side and plain on the other, it can be worn to suit the mood of each day.
BUY IT NOW FOR €19.00
Cheeky mask – £9.99 
This cheeky number has a cute sparkly lip motif but is nevertheless robust. It is made specifically for women by Rogue Republic and comes with three layers of protection. It is made from 100 per cent breathable premium cotton. These washable masks come in several colours and are so robust they are likely to last forever.
BUY IT NOW FOR £9.99
Masks to match your outfit – £16.49 for 6
A pack of six masks with various colours and nifty designs that you will want to wear.
They are reusable made from ultra-breathable fabric so you are protected from everything from viruses to salon fumes without smothering your face with a sweaty rash.  The mask is layered with a pocket for the anti-pollution filter – there are six included. This means you can match the mask whatever outfit you are wearing. 
BUY IT NOW FOR £16.49
Masks perfect for lip-reading – £5.99 

A mask that hides someone's mouth can be a literal barrier to effective communication.
Not this one. There are four unisex masks in this package. These have a clear window so you can see the lips which means you can catch the smile, see the expression and so are ideal for lip-reading too. These are washable, reusable made of polyester fabric.
BUY IT NOW FOR £5.99
TIP: if you have a beard or a moustache, take note of the advice offered by the Centres for Disease Control and Prevention (CDC). Facial hair may interfere with the effectiveness of your face masks. Make sure that the hair fits inside of the mask or better still (if you are so inclined) go clean-shaven.

---
Disclaimer: this article was sponsored by GATE8 and UBIK